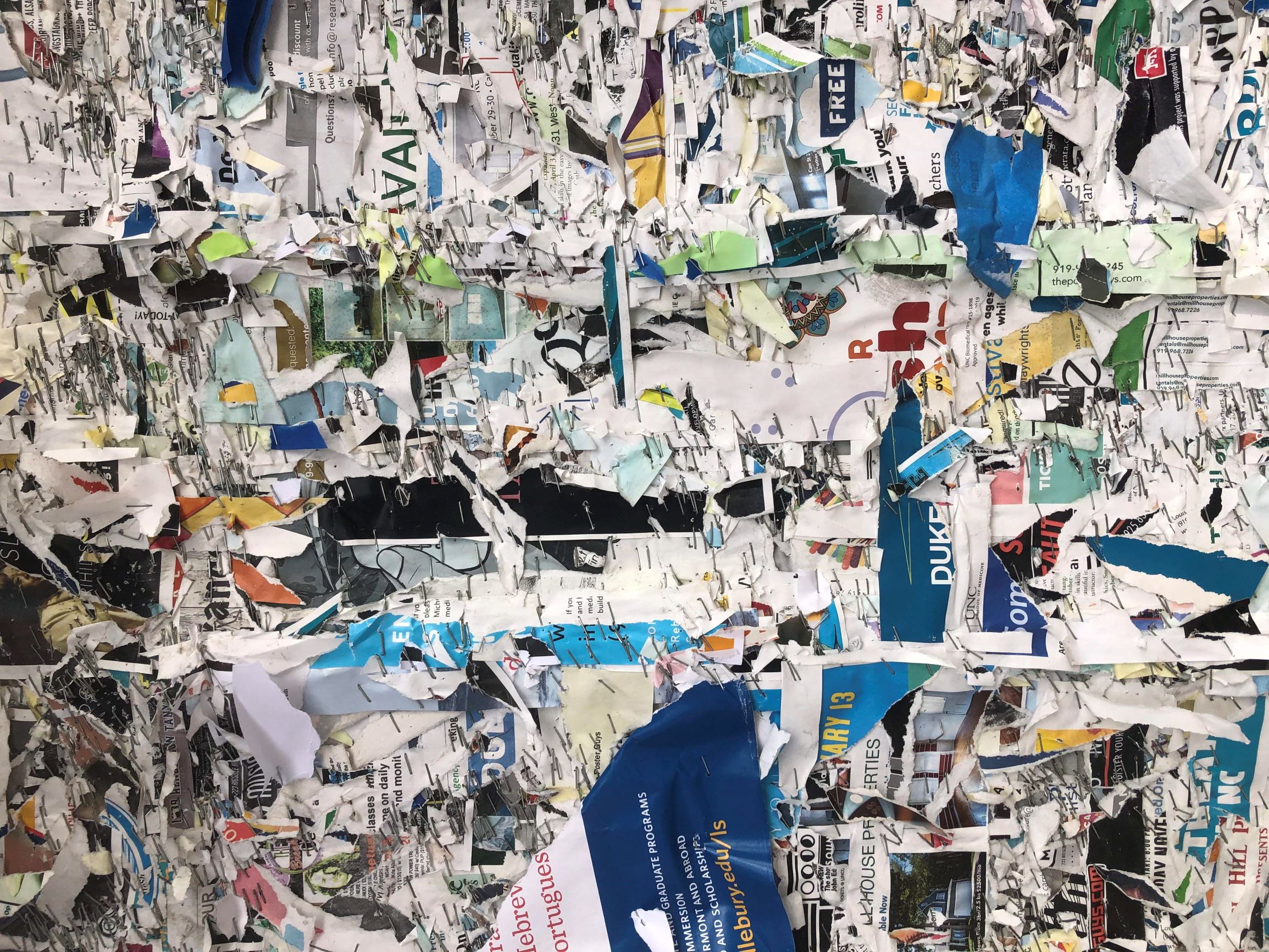 Madison Krob

From
This is how it will always start: We leave something behind.




Apparently, you can see the Gelitin bunny
from space. A group of artists from Vienna
decided to knit a 200-foot-long pink plush
bunny on the Colletto Fava mountain in 2005.
Created in the empty acres of Italian farmland,
it's fallen from heaven, neon pink fur breaking
apart at the side seam, crocheted pastel innards
spilling stuffing onto a verdant mountain in
the middle of the countryside. It's splayed out,
eyes to the sky, with a 5-foot crater in the divot
where the mouth should be. If you plan on
hiking up the Colletto Fava, you might stumble
across the Gelitin bunny and climb atop it,
jump into the memory foam mouth, stumble
over knitted guts of the discarded art piece.
The intent is for it to decay into the Earth over
time. The intent is for it to seem out of place
and unusual. The intent is for it to intrude, just
like art. The intent is for it to continue seeping
into the ground occupied by farmers and potters
and families residing in the Piedmont region.


My father went to school to be an artist. He
grew up in the middle of Bridgeport, Ohio,
a dying coal town where the only way out was
a draft. In the time he wasn't catching for the
varsity team or carrying the basketball record
or spending time under the football Friday
night lights, he was drawing, envisioning the
ways of the outside. Now, our basement is
littered with my dad's cardboard obituary of
sports memorabilia, trophies, newspaper
clippings, and letters from his time as
all-Eastern Ohio, all-valley, all-OVAC, first
team all-district and first team all-state: his
glory days. That, and a protested pile of cobweb
canvases and sketches. The forever shelf-
life of a zoomed-in realism piece of a baseball
player, a captured examination in color of a
Marshall football game. They sit discreet
in the crawlspace of our basement next to
Christmas decorations and Halloween costume
memories and the things we keep just to keep.